We hold Toni Toni Marchais on 3/10 Saturday.
We hold 12 ten ni's first Marchais ... at 11:00 on Saturday, March 10.
As we perform naturalism ingredients and miscellaneous goods, workshop this time,
You can enjoy between families and friends casually.
Carry foot to Kyoto, Okazaki of the early spring by all means.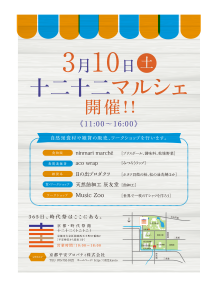 [branch lineup]
■Meal product sales ninmari marché [Bliss ball, seasoning, dried vegetable]
■Meal-related miscellaneous goods aco wrap [beeswax lap]
■Miscellaneous goods system sunrise products [powder of scallop shell, oil detergent others of pine]
■Meal, workshop nature deceptive appearance dragon friend temple [deceptive appearance]
■Workshop Music Zoo [let's make one piece of T-shirt in the world]
Place / "Kyoto, Festival of the Ages building 12 ten ni" site
It is 00 00-16 /11 at time