[Toni Toni one week elapsed time sense size lottery] Holding! Hospitality corps comes over, too!
Thank you for always using Kyoto, Festival of the Ages building Toni Toni.
Thanks to you, on forthcoming December 20, we will reach the opening first anniversary.
This expresses sincere appreciation with gift of your patronage entirely, too.
Therefore, with all everyday thanks, it is small
We hold commemorative event in the following schedule.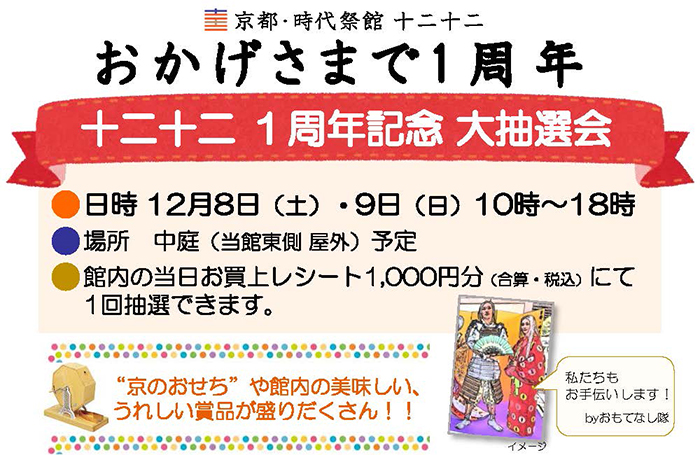 ■Date
Saturday, December 8, 2018 10-18:00
Sunday, December 9, 2018 10-18:00
■Place
Kyoto, Festival of the Ages building Toni Toni courtyard (the east side outdoors) plan
We can draw lots in (we can add up and include tax) for purchase receipt 1,000 yen in hall once.
Delicious nice products in New Year dishes "and hall of" Kyoto are varied!
"Hospitality unit" where event was prosperous very much at "door of the times" invites all of you.
As we will act as all the staff determination to be able to meet your trust newly
We hope that we have more patronage continuously.