"Toni Toni pet photographic contest" holding → Under work display!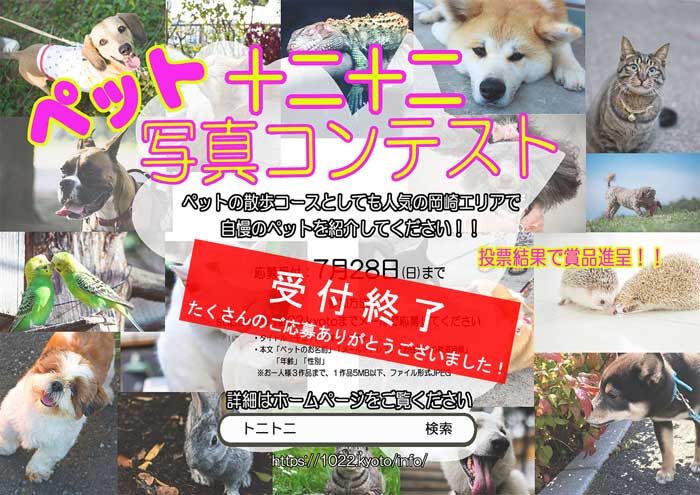 ◇◇◇ "Toni Toni pet photographic contest" offer essential point ◇◇◇
◆Theme: Our vaunted pet
◆Offer period: Until Sunday, July 28
・We have title of email input with [Toni Toni photographic contest],
In the text [the name of pet] [the metropolis and districts to live] [age] [sex] [e-mail address]

Well, after filling out, please send work by email.
・To 3 works per person, file is in JPEG format that is with 1 work 5MB or less of, please.
5MB or more images lower resize, resolution, and please send.
⇒ We accepted and were finished. Thank you for your much application!
(July 29, 2019)
◆Work display: From Monday, August 5 to Thursday, September 26
・We decide work to display after selection.
◆Vote period: From Monday, August 5 to Sunday, September 1
・You can vote in exhibit space in hall of the Kyoto, Festival of the Ages building Toni Toni.
◆Result announcement: Saturday, September 7
・We announce in homepage and exhibit space.
・We contact prizewinner by email.
・We plan article of Toni Toni careful selection about prize.
※We prohibit admission by pet companion.